Blog
Ultimate Guide to watching HBO Max with VPN 2022
Ultimate Guide to watching HBO Max with VPN 2022
How-to Guide· 4 minutes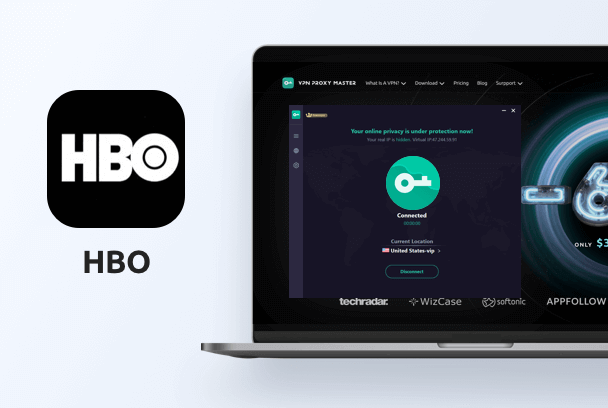 WHAT DOES IT HAVE TO OFFER?
HBO Max offers a very impressive on-demand library, as well as its apps, support the latest video streaming features, this includes multiple profiles as well as offline downloads! It also offers great premium television programming, including original series, live sports, and theatrical films! All of this is available in the USA, Canada, and a few selected countries in Europe, Latin America as well as Asia.
NOT AVAILABLE IN YOUR REGION!
If you attempt to watch HBO outside of these countries then you will most probably receive an error message stating that the website isn't available in your region. Obviously, with it only being available in certain countries you will of course need a VPN in order to watch it elsewhere in the world. With the help of a VPN, you can get an American IP address and unblock HBO in your country!
HBO Max is actually compatible with all Apple devices such as iPod, iPhone, and iPad, as well as Apple TV in HD and 4K. You can also enjoy HBO Max movies on airplay but only if you have a 2nd or 3rd-generation Apple TV at home.
SOME OF THE ADVANTAGES!
Here are just a few of the pros!
1, It has a huge catalog of popular shows as well as movies!
2, All of the Warner Bros. 2022 movies are viewable the exact same day as theatrical releases!
3, Attractive apps.
4, Absolutely no ads.
5, It supports profiles and parental control tools.
6, Offline downloads on mobile devices.
WHY YOU NEED A VPN!
In order to access HBO Max from anywhere outside of the United States, you have to use a VPN! There's no other way around it! HBO Max is region-locked, that's why you need to ensure that you have the best VPN in order to unlock all of the movies and shows from the comfort of your own home! With the right VPN, you can connect to an American server very easily and stream movies just as if you were living in the US!
THE BEST VPN!
If you are living outside of the US then don't fret you can easily access HBO Max movies and shows by using a VPN! All you have to do is follow these simple steps in order to start streaming!
1, First you need to subscribe to a VPN service, I would recommend VPN Proxy Master.
2, You will then need to connect to a United States server.
3, Finally all you have to do is log in to HBO Max and enjoy any movie or tv show outside the USA!
VPN PROXY MASTER IS NUMBER ONE!
VPN Proxy Master is by far the best! Not only is it user-friendly, but it also bypasses and unblocks many streaming platforms as well as a variety of apps to protect the privacy of all of your online activities. There are no speed limits at all which makes this the perfect VPN for streaming! It's available for Mac, Windows, iOS, and Android. It has amazing features including WiFi security, anonymity, website unblocking, military-grade encryption and you can use it on multiple devices! It's so inexpensive and you most definitely won't be disappointed with what it has to offer!
PROTECT YOURSELF!
It's a must-have if you are a die-hard streamer! No one wants to experience buffering issues while watching their favorite content and you most definitely will not experience any issues when using VPN Proxy Master as it has amazing speeds and no bandwidth limits! It's just what you need in order to maximize your streaming experience, especially if you are trying to access geo-blocked content!
STREAM WITH EASE!
Not only will you be able to stream with ease you will be fully protected while doing so! It has amazing privacy and security features so you can stream and spend as much time online as you wish knowing that no one can gain access to your personal information! It's quite surprising how many of us just surf the web without even thinking about who could be watching us! Do you really want strangers gaining access to your bank details, or personal photos and videos! Not to mention if someone has access to your IP address they can quite easily find out your exact location! Quite scary!
BE SMART!
Don't be foolish make the right decision and install VPN Proxy Master today! Stay protected and enjoy streaming all of your favorite movies and shows on various different streaming platforms including HBO!