Blog
Ultimate Guide to watching Kodi with VPN 2022
Ultimate Guide to watching Kodi with VPN 2022
How-to Guide· 5 minutes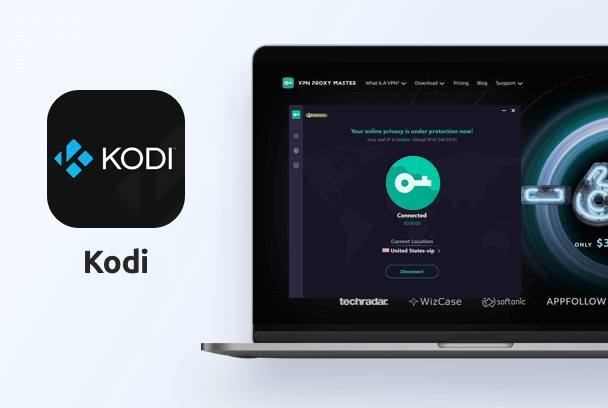 WHAT EXACTLY IS KODI?
We've all heard of Netflix, Disney Plus, Sky Go, etc but have you heard of the award-winning entertainment hub Kodi? It's the ultimate entertainment center software as it plays almost every kind of media that you can find! It has so much to offer, there's something for everyone! You won't be disappointed!
#1 MUSIC
Kodi can actually play all of your music including mp3, FLAC, WAV and WMA formats! Kodi has a cue sheet, tag reading support as well as smart playlists for ultimate control of your much-loved music collection!
#2 MOVIES
Kodi supports all of the main video formats including streamable online media, it can import, browse and play your entire movie collection with ease!
#3 TV SHOWS
The tv shows library actually supports episode and season views with banners and/or posters, watched tags, show descriptions & actors. This is fantastic for keeping track of all of your progress!
#4 PHOTOS
You can also import pictures into a library as well as browse the different views. Why not start a slideshow, or even sort and filter them all by using your remote control?!
CHANGE ITS INTERFACE!
Kodi will allow you to completely change the overall appearance of its interface with skins. There are plenty of skins to choose from so there's no doubt about it that you will be able to find something that suits your particular taste!
WATCH AND RECORD!
You will be able to watch and record live tv and all from an easy-to-use interface. It works with several different popular backends including MythTV, MediaPortal, Tvheadend, NextPVR, and many many more!
WORKS WITH VARIOUS DEVICES!
The great thing about Kodi is it also works with different media sources, it doesn't matter whether it's free streaming, paid streaming, storage or files you have on your computer, its plug-ins let you process all sorts of media which you can display on your device!
It works with a lot of different devices and supports the following :
Having a wide range of support is most definitely needed so that it can work with home computers, traditional tv boxes and other devices that may broadcast content directly onto your tv screen!
WHERE DOES A VPN COME IN HANDY?
You may be wondering why you need to use a VPN with Kodi! The answer is simple! Regardless of what you are doing online, it's always best to use a VPN, especially for streaming so of course Kodi is no different! It's important to understand that not all content is available from every country therefore using Kodi with a VPN means you can access geo-blocked content that some particular plug-ins might not be willing to show you without one! This is unfortunately a hugely common problem with a lot of the major well-known streaming services! Let's take Netflix for example, it's practically world-famous for blocking users from all around the world from viewing specifically USA content! Which can understandably be very frustrating for people who have subscribed to its service! However, we do have to remember that accessing geo-blocked content could possibly be violating the terms of service with your content provider! That's the way how they see it!
ACHIEVE MUCH BETTER STREAMING SPEEDS!
In certain countries where ISP regularly practice traffic throttling or shaping, a VPN can most definitely help you to achieve better streaming speeds! When your ISP finds out that you streaming videos, they could decide to slow down your traffic, this is done to either improve the overall network performance or to get more money out of their clients! Quite sneaky if you ask me!
HOW TO SET UP A VPN WITH KODI!
It's extremely easy to set up a VPN for Kodi, follow the steps below and you will be good to go!
1, Firstly install it using a VPN application. All you have to do is go to the official website of your VPN provider, download the software, log in and then choose a server location and connect!
2, Then set it up using a Kodi add-on, go to Kodi add ons and choose the extension that works alongside your VPN provider. Next, you need to install it and enter your details to activate it.
3, Lastly you need to set it up on your router, you will need to have the right router in order to do this. Once you have set up the VPN by flashing your router, you can then connect Kodi to the router directly.
WHAT'S THE BEST VPN FOR KODI?
If your looking for a VPN that won't let you down and will unblock a surprising number of streaming platforms then VPN Proxy Master is most definitely the right VPN for you! Not only is it free but it's extremely popular due to its super-fast speeds and reliable security and privacy features. It has absolutely no bandwidth restrictions, therefore you won't experience any buffering issues while using this VPN! VPN Proxy Master is very efficient against viruses and hackers, it also helps you to unblock various websites as well as difficult-to-access content. One of the best features of this VPN is that it works with data encryption to avoid being seen by the web service provider. All of your data will be led through a secure tunnel so all of the information that you handle through the server will be fully protected.
VPN PROXY MASTER BENEFITS!
The benefits of having VPN Proxy Master are endless! Here are just a few :
2, Unlimited video streaming
3, Fast and secure Wi-Fi connection
5, Absolutely no record keeping
Maximize your steaming experience and install VPN Proxy Master today! It will change your overall experience while streaming and your experience online in general with most definitely improve!