Blog
The 6 best Gmail alternatives 2022
The 6 best Gmail alternatives 2022
VPN Tips· 7 minutes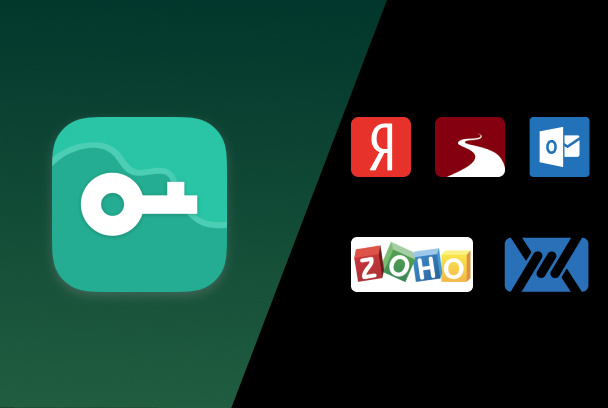 Today, the world is one community, thanks to technology that has made communication possible between people who are thousands of kilometers away from each other. Gmail has made communication very easy and fast.
Before choosing a communication channel to use are; timeliness, delivery, and security (encryption). Encryption ensures that only the intended recipient should receive the message. Someone else should not receive the message or alter it while it's on the way to the recipient.
Is Gmail Secure?
The straightforward UI, substantial free storage, and diverse variety of free productivity features have helped Gmail become the dominant player in the email industry. However, there are grave worries about how Google utilizes your emails, and not everybody is a fan of the Gmail layout, which is why you may want to consider using one of the Gmail alternatives instead.
Google gets a lot of things right. When it comes to spam detection, it is excellent. It also alerts users when malware is detected, and it retains an effective watch about where folks are logging into their accounts from – in an attempt to spot invaders effectively.
So, what exactly is it about Gmail that is causing this issue? And, more importantly, why are so many individuals seeking an alternative?
Google is well-known for scanning emails for keyword content. It used to do this to deliver advertisements and provide a source of money.
To transmit secure End to End (E2E) encrypted emails, Gmail lacks a native method.
Even if you use ad-blocking software, Google compiles information about you and stores it in its database.
Since 2009, it has been known that Gmail has been infiltrated by the invasive PRISM program run by the United States government. They could intercept and read everyone's emails thanks to this application.
What are the Best Gmail Alternatives for 2022
For the majority of individuals, the thought of utilizing one of the Gmail alternatives appears to be an impossibility. Our online lives have become increasingly entangled with the Google platform, and the product is incredibly user-friendly. However, the best Gmail alternatives are far superior to what you may expect. You are not required to leave Google to use this method entirely.
People have recently begun to realize the need to protect their digital footprint by using more secure email software. If you care about your privacy, it's time to join the growing number of people who are abandoning Gmail. The excellent thing is there are so many safer potential substitutes currently on the market from which to pick, which is a welcome relief.
Here are some options to choose from:
Yandex Mail
Yandex Mail is a free email program that provides infinite online storage for messages. Message themes, reminders, electronic greeting cards, and keyboard shortcuts distinguish Yandex Mail from other email services such as Gmail and Yahoo Mail.
Whenever you send an email, you have the option of telling Yandex Mail to keep an eye out for responses. If five days have passed without receiving a response, you will be asked to follow up if needed. It is possible to plan email deliveries for later with Yandex Mail.
Yandex Mail checks it for phishing, spam, and malware upon receiving an email. You can also manually block senders if you like. A detailed activity record makes it easy to detect suspect behavior even though Yandex Mail does not support two-factor authentication for increased security. If necessary, you can also log out remote clients directly from the web interface.
Outlook
Do you use Microsoft? If that's the case, you've come to the right place. Using the Outlook free edition is as easy as using any other Microsoft product.
With OneDrive, you get more storage, a color-coded calendar, contact management, and a task manager. Like Gmail, it allows you to categorize your emails.
Attachments in Outlook can be up to 34 MB in size. If you need to send a huge file, you can do so with OneDrive.
As a result, Outlook has a built-in spam filter. In addition, you can utilize Microsoft Authentication instead of the password to log in to the account.
Zoho mail
With Zoho Mail, small individuals and businesses can enjoy a feature-rich email service. Considering that it's the closest thing to Gmail in terms of functionality, it's the best alternative to Gmail you're going to find.
The Streams function in Zoho Mail allows you to organize the app's user interface cleanly. You can add comments to your email threads, share files and assign projects using streams, which can be helpful if you plan to use the site professionally.
Encryption support for S/MIME (Secure Multipurpose Internet Mail Extensions) is included in your inbox, as well as support for SSL and TLS (Transport Layer Security) (TLS). You can add two-factor authentication with Touch ID, TOTP's, or other techniques to strengthen the security of your inbox.
Mailfence
Mailfence is a private email company that is based in Belgium. Their services are mainly concerned with online security, which gives them an upper hand when it comes to security.
It is a safe email service that offers a 500MB storage account as part of a free subscription.
Both consumers and security professionals regard Mailfence as a great choice.
All other OpenPGP-compliant encrypted email services may easily communicate with this service, which provides a wide range of features and outstanding compatibility. As you'll see in this review, many people think it's the best option for the complete G Suite.
Users can use Mailfence or a custom domain name for their email addresses. Additionally, Mailfence subscriptions do not require a real name from users, and You can create accounts anonymously by paying with a burner email address and cryptocurrency.
Mailbox.org
Non-US Gmail alternatives like Mailbox.org are the finest. It's based in Germany. It's only available as a paid option to Gmail.
You may find Gmail-like features, including discussion threads, search, self-learning organizing tabs, numerous inboxes, and more in the free service Mailbox.org. The user interface will be familiar if you've used Gmail before. Mailbox.org accounts, despite their limited features, offer varying amounts of cloud storage.
Tutanota
Tutanota is a fantastic Gmail alternative, especially for security-conscious and private individuals. In addition to a free account, the email provider also offers reasonable upgrades and an end-to-end open source email infrastructure, all from its headquarters in Germany.
Tutanota does not accept advertising as part of its business plan, and as a result, it solely earns money from premium subscriptions and contributions.
You can send untraceable emails, maintain encrypted calendars, and send out-of-office communications using this service.
Encrypt Your Email with a VPN
We have talked about a secure email service provider but is that all you need to ensure that you are 100% safe? You never know when a company may be breached, and their security system is overtaken at the same time. Who knows when a company may decide to compromise?
Your only solution is to stay alert and be secure even from the email service providers themselves.
If you wish to send genuinely anonymous emails, you'll need a higher level of encryption than is currently available. Your email service providers can still maintain a record of your identity, track your IP and your geography, and see email message lines and contacts even if you delete your account. It's understandable if you want to keep your identity hidden when sending and receiving private emails.
A VPN hides your online activities from ISPs and distant hackers by encrypting all of your traffic and data in transit. There is no reason not to use a virtual private network (VPN) if you are concerned about protecting your identity and hiding your location.
When using public wifi, VPN email encryption is extremely useful. Public wifi networks are notoriously insecure, leaving you open to attack by malicious third parties. However, we can't always resist the desire to check our email over the internet. A virtual private network (VPN) comes in handy in this situation. If you want to completely clear the data in your Gmail, you may choose to delete your account.
Conclusion
Now that you know that you need to keep your security and ensure that your business or personal information is safe from cybercriminals, we are here to help. Not all VPNs will ensure your privacy. It is thus important to take your time and choose the best VPN.
Users always clog-free VPNs, but at the same time, to get profit, they can often compromise your identity by selling it to businesses for ads. That means that you need a premium service that is pocket-friendly and highly secure.
VPN Proxy Master is an easy-to-use and pocket-friendly VPN with servers in over 45 countries, ensuring that you are 100% anonymous while online or when sending messages. We also allow you to access all the mailing services that may be out of your location because you can always choose on a server in the country you want.Choose VPN Proxy today and let your business and individual messages stay protected